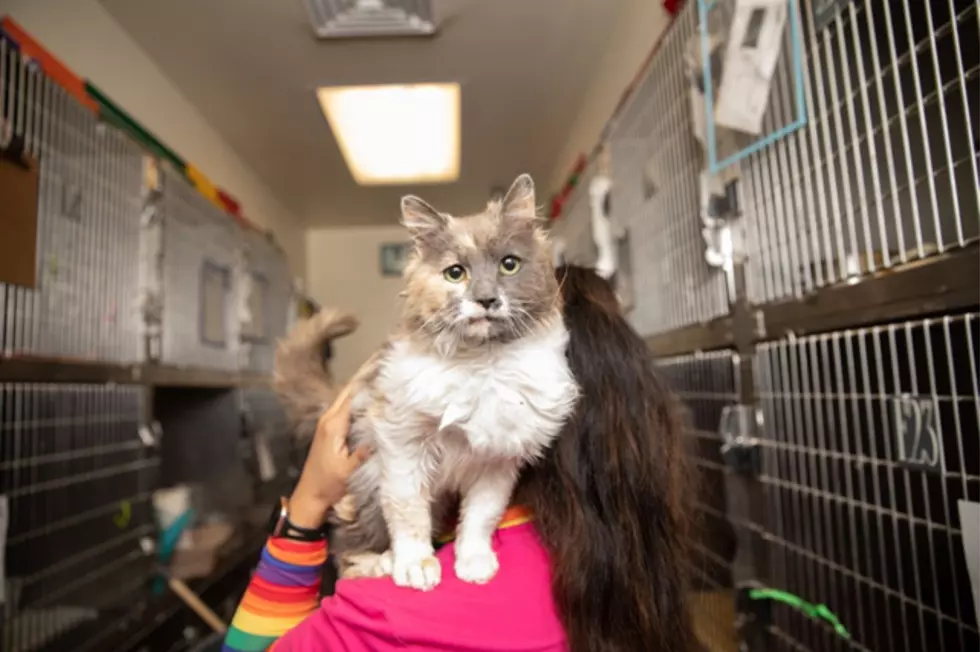 Find Out How To Adopt The Perfect Pet This Weekend
Best Friends Animal Society
The Susquehanna Society for the Prevention of Cruelty to Animals (SQSPCA) will have an adoption event today and tomorrow as part of National Adoption Weekend.
"Our adoption fees will be discounted, with $50 off on dogs and $20 off on cats," SQSPCA Executive Director Stacie Haynes said in a statement delivered to CNY News. "The goal of this partnership is to move animals out of the shelter and into new homes, to make room for animals waiting to come in."
Adoptable pets can be viewed at www.sqspca.org. Adoption fees include spay/neuter, vaccines, flea/tick treatment, microchip implantation and deworming.
Best Friends Animal Society, a leading animal welfare organization is teaming up with the SQSPCA to assist with this event.  This Animal Society released data showing that shelters are seeing an increase in animal intakes and a decrease in pet adoptions.
"Our challenge with overcrowding is that, when it happens, we are limited as to how we can help people who have to surrender their pets, or people in need of emergency boarding. Right now, we have a waiting list for both cats and dogs," Haynes said.
The SQSPCA is open Tuesday through Saturday from 11 a.m. to 5 p.m. with evening hours on Thursdays from 5-7 p.m. The animal shelter is located at 5082-5088 State Highway 28, Cooperstown, NY.
17 Upstate New York Dog Parks for Your 'Good Boy' or 'Good Girl'
Lets face it, when the family dog is happy the whole family is happy! Dog parks are popping up in more and more communities across Upstate New York every day. Check out these 17 which cover every region of Upstate. Some are big, some are small. Some are basic running places, and others are elaborate dog playgrounds. And some even serve a glass of wine or craft beer for Mom and Dad to enjoy while Rover plays! Keep your furry friend happy at one of these dog parks today.
Susquehanna SPCA Miracle Puppies
The Susquehanna SPCA helped to rescue a puppy mill female dog, a 6-year-old Siberian husky named "Candy" that was retired from breeding. Through an alliance with Furever Friends Dog Rescue of WNY, a nonprofit group in Ohio that saves retired dogs from puppy mills, the dog was being cared for at the Cooperstown shelter and being prepared for adoption. Part of that process is to spay the dog before adopting it out. A big surprise happened during the surgery - the very thin dog was found to be carrying inside her a litter of four puppies. Three of them were found to be still alive and were saved. What a miracle!
'Bring Fido!' 15 New York Craft Breweries That Welcome Dogs
New York State's craft brewery industry is growing in leaps and bounds. They are fun places with great beer, food and entertainment. It is always nice when you can bring your best friend along for the experience. Here is a list 15 of top craft breweries in Upstate New York that welcome dogs.
DOG LOVERS: 5 Tips On Introducing Your Dog To A Dog Park
We all want to be responsible dog owners and create a wonderful experience for our dogs at a dog park. If you have a dog that you think would love a chance at playing with other furry friends at a public park, here is some very practical and simple advice from certified dog trainer Sarah Cummings who has a lot of experience as a staff member of the Susquehanna SPCA.
Here's what Sarah has to say to us dog parents...
Great Disney+ Movies You Might Have Missed
These excellent films are all waiting to be discovered on Disney+.