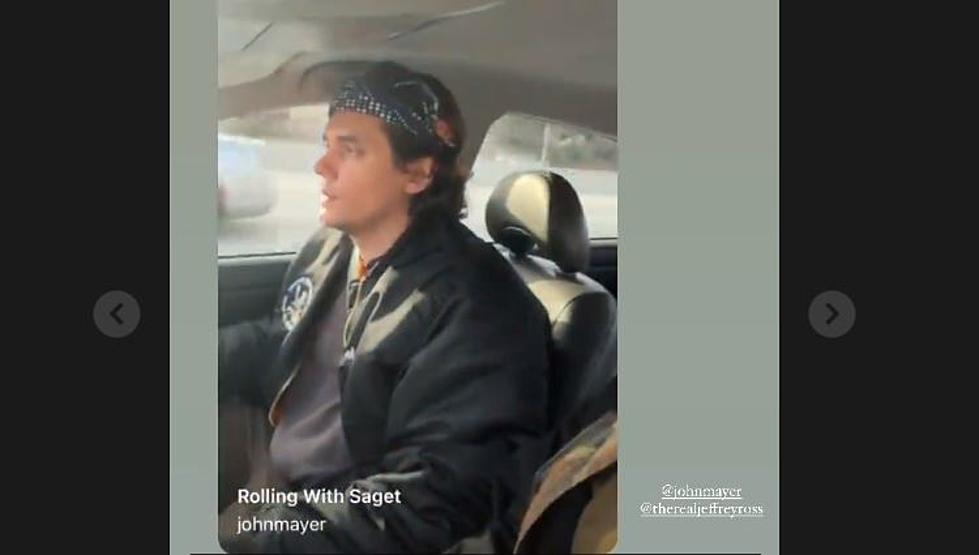 John Mayer and Jeff Ross Pick Up Bob Saget's Car From LAX (VIDEO)
via Instagram
John Mayer and Jeff Ross went live on Instagram this week as they were returning from picking up Bob Saget's car from LAX.
Saget died in an Orlando, Florida hotel earlier this week as he was out on his latest comedy tour, and the online reaction to his death just confirms what we are all feeling: he truly was America's Dad.
The only "negative" thing that I have heard about Bob Saget, ever, was that he was at times "cheesy" while he was hosting "America's Funniest Home Videos" which, truly, is just an opinion. Granted, his stand-up was a total 180 from his role as Danny Tanner, but the man seems to have been (pardon the pun) a real stand-up guy.
He was adored by all who crossed his path. Reading the online tributes from his friends, coworkers, and acquaintances all pretty much say the same thing: Bob Saget made them feel as if they mattered. He made them feel as if he was a part of their lives, and they were a part of his life, regardless of how close they actually were.
John Mayer and Jeff Ross (you know him - he's the really crude one that shows up at the celebrity roasts) did a very nice thing for their friend and his family: they volunteered to drive out to Los Angeles International Airport to pick up Bob Saget's car.
Two things about this surprised me. The first one is this: people can actually afford to leave their vehicles parked at the airport for longer than 3 days. The second one is this: Bob Saget drove a Prius.
What did I expect him to drive? I have no idea. Maserati? Mercedes? G-Wagon? I guess it's those vehicles that we associate with rich, successful Hollywood-types. But it appears that Bob Saget wasn't the typical Hollywood hot-shot, and he might have even cared about this planet (judging by his choice of wheels).
I guess that there are things we don't think about when we hear of a celebrity's passing: all of the pieces left behind. His belongings at the hotel. His car at the airport. His locker at the gym or the club.
We also might not think about what the family has to go through after their loved one's death. Sure, they may have some lawyers or "handlers" who help with that stuff, but it's the same stuff that any of us would have to deal with. I can imagine that when a friend offers to come in and take care of something, it's a big relief for the family.
Bob Saget's wife, Kelly Rizzo, certainly appreciates what John Mayer and Jeff Ross did, as it takes one more thing off of her plate and allows her to concentrate on her family.
Rizzo took to social media to share John Mayer's video and to thank them for their help.
"No words for how much this meant to me" Rizzo wrote when she shared the video. "These 2 men have been holding me up and taking care of me... driving our little prius that Bob left at the airport, home, was such a solid."
Rizzo also said that she was happy that the trip gave them time to share memories of Saget with the world through their video, which you can see below.
TL;DR: 1: Bob Saget drove a Prius. 2: Mayer and Ross picked up the Prius from the airport and drove it to Bob Saget's house. 3: Bob Saget was loved. Here's Bob and Kelly in a video for her Eat Travel Rock Instagram page:
We'll miss you, Danny Tanner.
Popular Child Stars From Every Year
Below,
Stacker
sifted through movie databases, film histories, celebrity biographies and digital archives to compile this list of popular pint-sized actors from 1919 through 2021.
LOOK: TV Locations in Every State
30 famous people you might not know were college athletes
Stacker
dug deep to find 30 celebrities who were previously college athletes. There are musicians, politicians, actors, writers, and reality TV stars. For some, an athletic career was a real, promising possibility that ultimately faded away due to injury or an alternate calling. Others scrapped their way onto a team and simply played for fun and the love of the sport. Read on to find out if your favorite actor, singer, or politician once sported a university jersey.