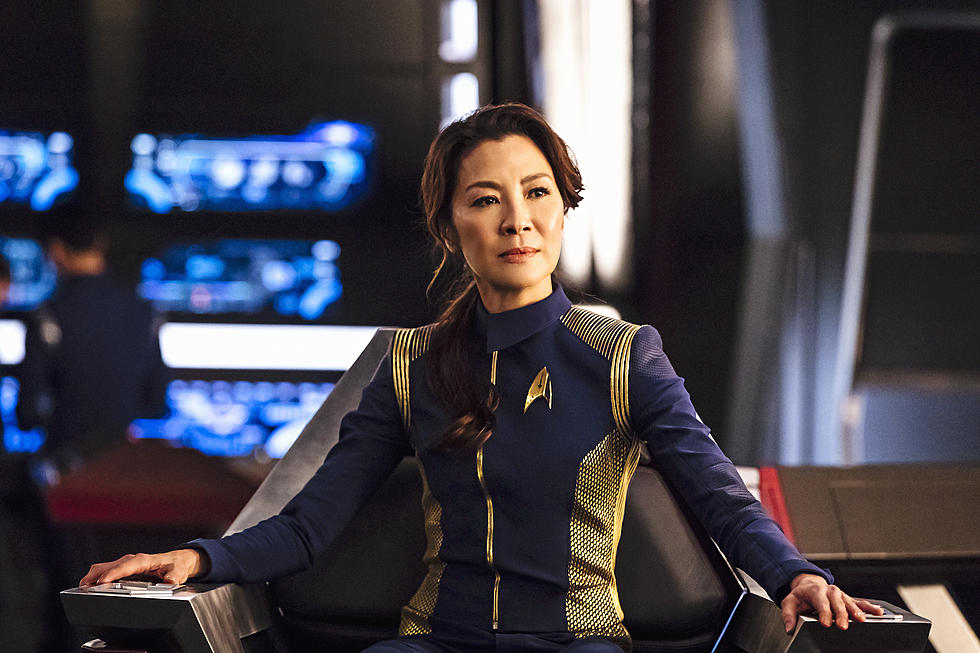 Michelle Yeoh to Star in Next 'Star Trek' Movie
CBS
Reports originally had Michelle Yeoh continuing her role as Emperor  Philippa Georgiou from Star Trek: Discovery in her own spinoff TV show. (Yeoh has supposedly been pushing CBS for such a project for several years.) Instead, Paramount+ announced today that Georgiou (and Yeoh) will instead get their own "special original movie event" dubbed Star Trek: Section 31.
The synopsis of the special original movie event (isn't that just ... a ... film?) reads "Emperor Philippa Georgiou joins a secret division of Starfleet tasked with protecting the United Federation of Planets and faces the sins of her past. "
READ MORE: Why Everyone Is Wrong About Star Trek: The Motion Picture
Yeoh was originally introduced as Phillipa Georgiou in Season 1 of Discovery. At first she was the captain of the USS Shenzhou, but later her character was killed by a Klingon. Yeoh then appeared on the series as her own Mirror Universe counterpart. (This is the one that is an emperor.) She wound up making the jump to the main Trek universe and then remained a recurring character on the the rest of the series, and eventually joined the secretive Section 31 organization.
Here was Yeoh's comment on the news:
I'm beyond thrilled to return to my Star Trek family and to the role I've loved for so long. Section 31 has been near and dear to my heart since I began the journey of playing Philippa all the way back when this new golden age of Star Trek launched. To see her finally get her moment is a dream come true in a year that's shown me the incredible power of never giving up on your dreams. We can't wait to share what's in store for you, and until then: live long and prosper (unless Emperor Georgiou decrees otherwise)!
Star Trek: Section 31 will be written by Craig Sweeny and directed by Olatunde Osunsanmi. Production on the film is expected to begin later this year.
The spinoff comes at an important time for Star Trek, with several of the franchise's current shows like Discovery and Picard coming to an end and no theatrical film on the horizon. CBS and Paramount+ recently announced that Trek was also commencing work on a Starfleet Academy TV series. But that one won't have the most recent Academy Award winner for Best Actress as its lead.
Sign up for a trial of Paramount+ here.
How Old Movies Predicted Life In 2020 Would Be
Want to see what people in the past thought life would be like today? Watch these films.