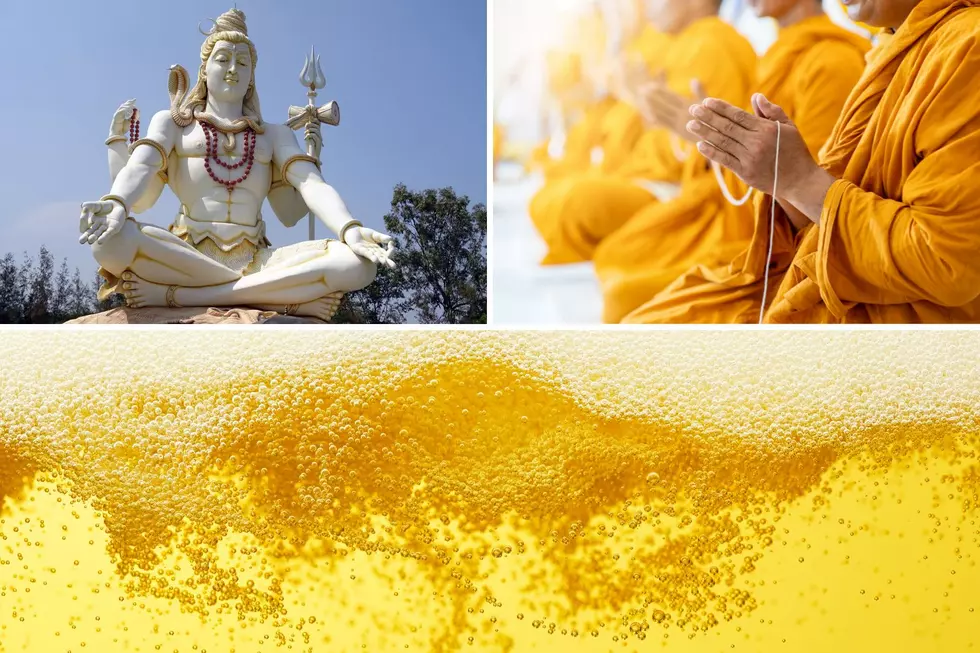 Omme-God! Religious Controversy Surrounds CNY Brewed 'Nirvana' Beer
credit: Canva
The owners of a Central New York brewery are reacting to those who object to the name of one of their best brews.
The issue was highlighted in a New York Post article this week where some leaders of the Buddhist and Hindu religions said they took exception to use of the word 'Nirvana' - the name of a an IPA made by Cooperstown's Ommegang Brewery:
"Upset Hindus and Buddhists are urging Cooperstown, NY based Ommegang to apologize and withdraw its 'Nirvana' beer," according to a statement issued by Rajan Zed, president of Universal Society of Hinduism and Buddhist minister, Matthew Fisher.

The men of cloth said slapping the word 'Nirvana' on a beer is "deeply trivializing" of the sacred term and "equating it with alcohol was very painful to the devotees."
In response to the criticism, the Ommegang released the following statement to WIBX 950, saying they don't want to disrespect any community, explaining why they named the beer 'Nirvana', and also saying they are giving consideration to making a change.
Statement provided to WIBX 950 from Ommegang Brewery:
"The name "Nirvana IPA" is intended to celebrate the atmosphere in which we hope beer lovers will enjoy the beer, which is that of tranquility when the noise and cares of the world fall away. Brewery Ommegang began distribution of Nirvana IPA in 2015; however, until today, we were unaware of the apparent concern with the name within the Hindu & Buddhist communities. We never intended to disrespect any community or religious beliefs by including "Nirvana" in naming the IPA. We welcome the opportunity to educate ourselves and determine what potential changes we could consider for this beer."
Meanwhile, the religious leader quoted in the story says not only in there an objection to the brewery's use of the word, he also called out other businesses like nail or beauty salons that may use words like 'Zen' in their name.
What Restaurants Are Being Added to New York State Thruway Rest Stops?
These restaurants are being added along rest stops on the New York State Thruway. Are you excited?
From A to Z: Utica Restaurants You Need To Try At Least Once
From A to Z, here's just some of the restaurants here in Utica that you need to try at least once.
Take A Look at The Menu: LODED - Syracuse, NY
Here's a look at the menu of Syracuse's newest hot spot.
Hours: 4 to 8 p.m. on 4/30/21 and 5/1/21. Starting May 4: 11 a.m. to 7 p.m. Tuesday-Saturday. Closed Sundays and Mondays.
10 Summertime Restaurants In The Utica and Rome Area That Deserve Way More Credit
The warmer weather is on the way for the Utica and Rome area of Central New York. That means enjoying amazing summertime foods and drinks. Are you ready? Here are 10 summertime restaurants in Central New York that deserve way more credit:
Take A Look At Turning Stone Casino's New Buffet: 7 Kitchens
The resort casino's culinary team has curated a menu for the restaurant's seven market-style stations that will feature a mix of new food options, while also offering new twists on all the classics. Here's some photos of what you can expect it to look like.